KSEB Quick Pay - Kerala State Electricity Board Electricity bill payment How?
Here we are providing detailed information regarding how to pay kseb bills via KSEB quick payment method. It includes step by step information regarding various payment methods like KSEB Mobile app, PhonePe, Google Pay and Paytm app.
About Kerala State Electricity Board (KSEB Ltd.)
The Kerala State Electricity Board Ltd (KSEBLtd) is a public sector undertaking company under the Government of Kerala . The organization was established under the Companies Act, 1956 with the aim to generate transmit and distribute electricity all over the Kerala State.It has been registered under Indian companies act during January 2011.
KSEB Ltd has 31 hydro electric projects, 7 solar projects, 2 diesel power plants and 1 wind farm. Power generation is also undertaken by Captive Mode Projects, Independent Power Mode Projects & Co-generation mode projects other than KSEBL. About 25% of the energy requirement is being met from hydel plants owned and operated by KSEB Ltd. As of December 2019, The total installed capacity was 2823.01 MW.
KSEB quick pay - How to pay kseb bill online ?
There are so many online methods to pay the kseb electricity bill without visiting kseb office.
Here, we are describing the all available methods in step by step for paying the kseb due bills through online methods.
Before going to this methods you must have either Credit/Debit card or internet banking.
1. Go to KSEB quick pay official website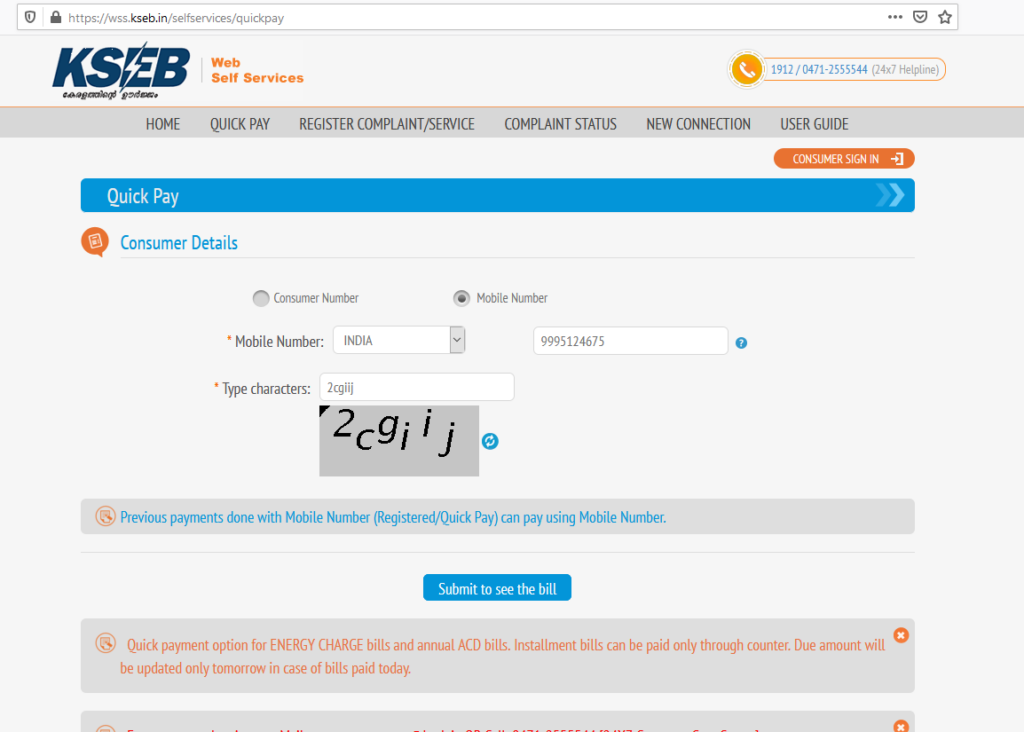 Visit the KSEB Ltd Quick Pay official website https://wss.kseb.in/selfservices/quickpay
2. Fill KSEB Consumer details
You can pay kseb bills by viewing bills either using consumer no or with registered mobile no.
Method 1 via mobile no.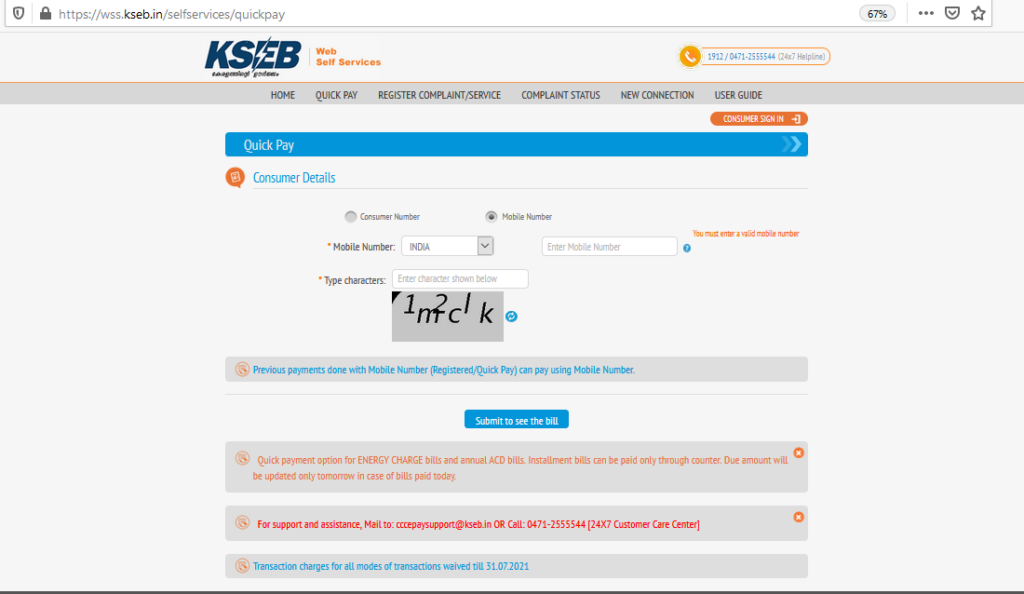 Provide your registered mobile no and fill the captha code. Then click 'Submit to see' the bill button.
3. View KSEB bill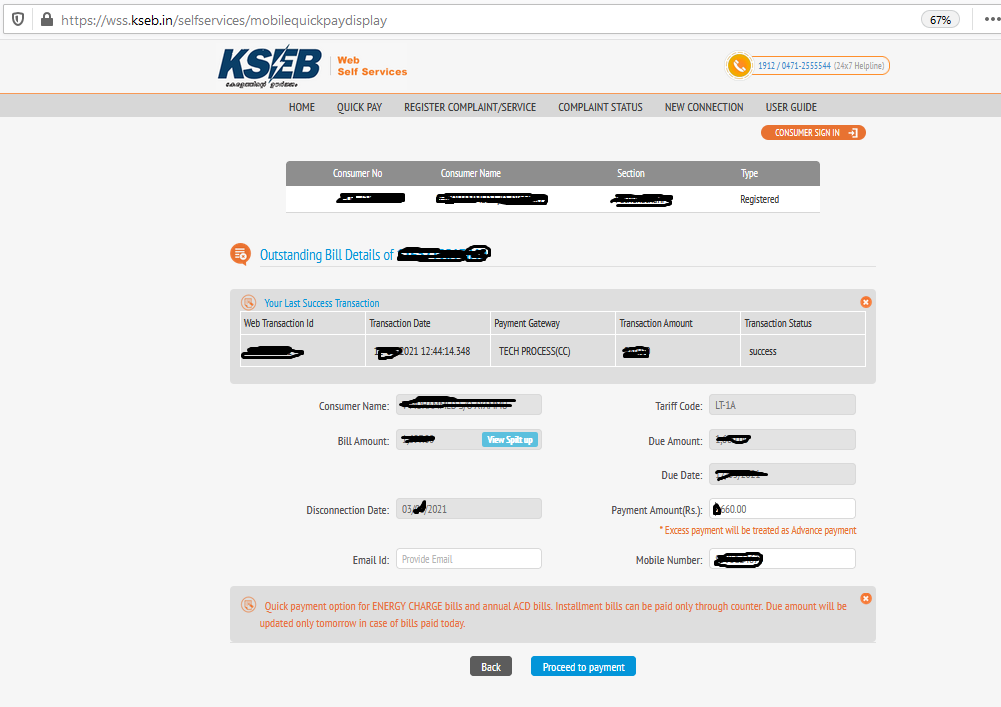 Now you can view the outstanding bill details of KSEB consumer no.
The details including previous payment status ,amount, gateway , transaction date and the current bill details including consumer name, bill amount, Tariff Code,due amount,due date, disconnection date , payment amount , mobile no.
In this step you are able to provide your email id . By clicking 'View Split up' button you will get split up bill.
4 . Proceed to Payment
If the above bills details are correct then click 'Proceed to payment' button.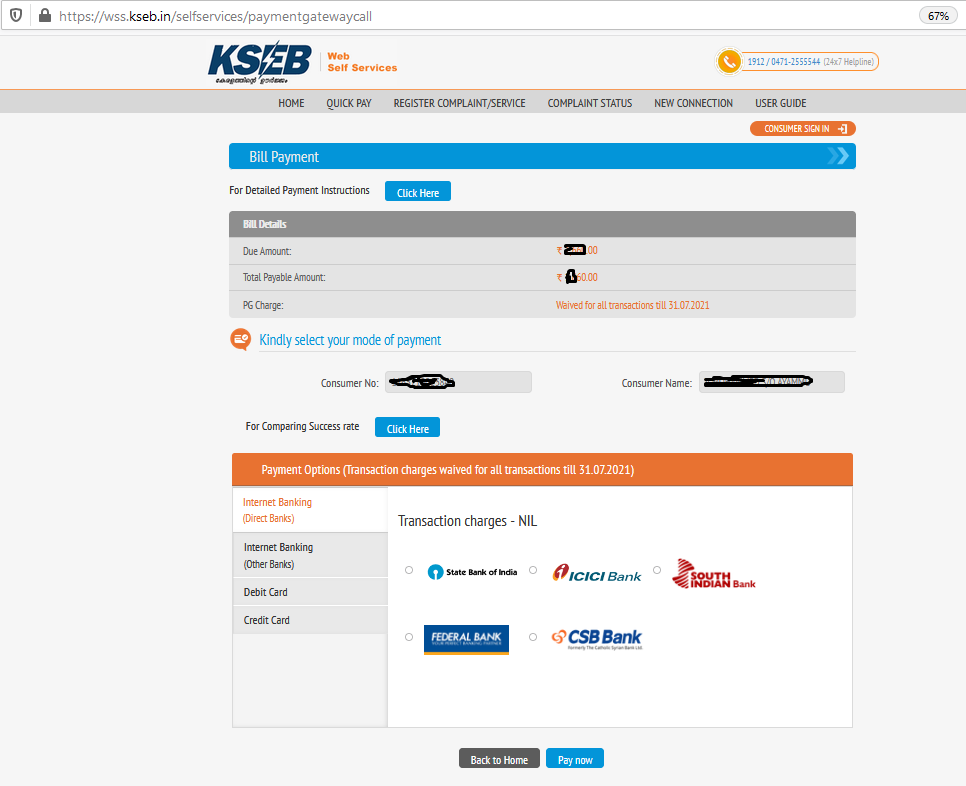 Now you are redirected to payment method selection page. Now you can select the following transaction methods.
Internet banking ( direct banks)
Internet banking ( Other banks)
Debit Card
Credit Card
In internet banking via direct banks you can pay the bill without the payment gateway.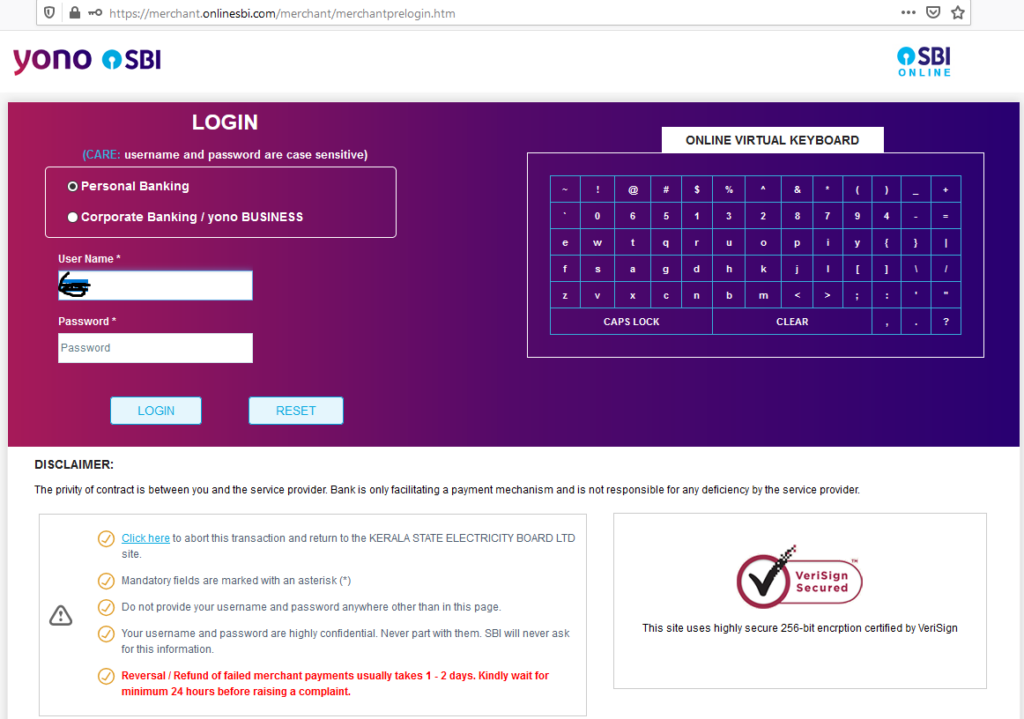 In internet banking you are redirected to banks official net banking web site. Provide username and password and login.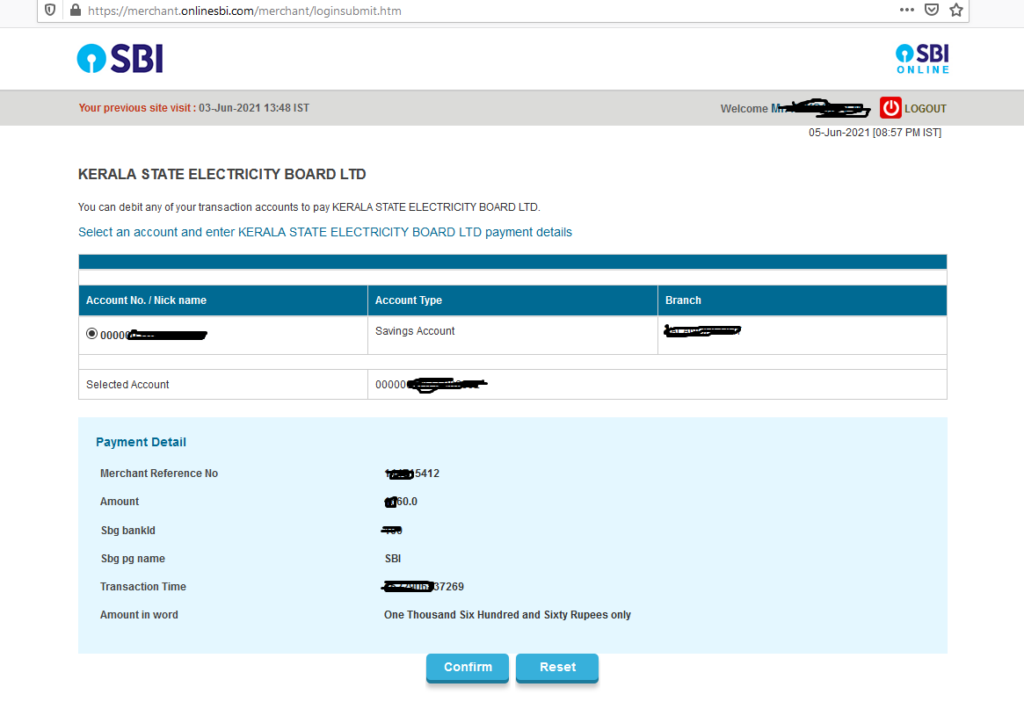 5. Complete the kseb quick payment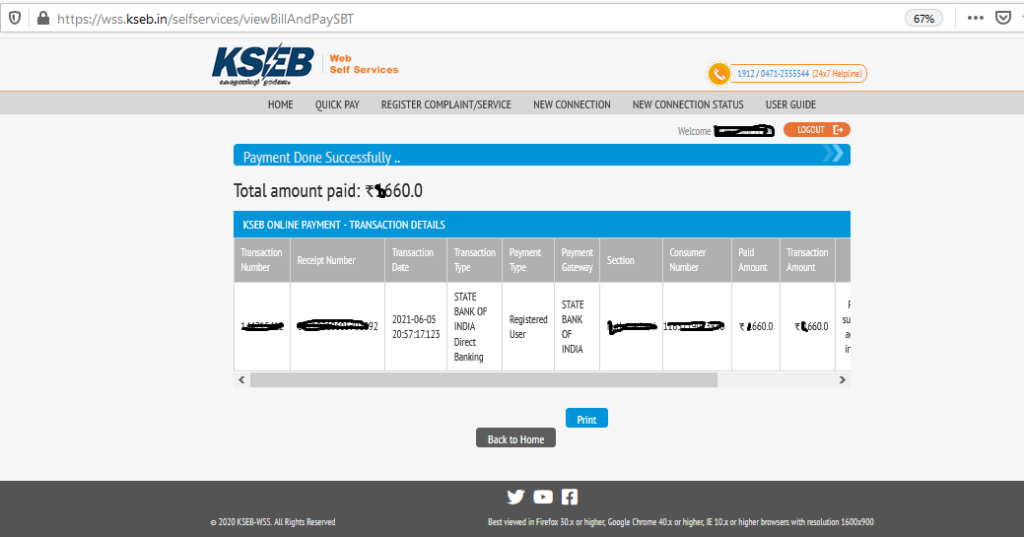 After successful payment . You are redirected to 'Payment Done Successfully' page . Here you will get all the transaction related details. And finally your are paid kseb electricity bill via kseb quick pay.
KSEB Helpline
kseb online payment - help line
Kerala State Electricity Board 24X7 help line nos.
1912
0471-2555544
KSEB bill calculator
This calculator is intended for calculation of Electricity Bill amount based on units consumed.
Actual Bills may vary according to consumer status
Fraction of rupees rounded off in final bill amount, is adjusted in Energy Charge/Fixed Charge
Advanced bill calculator for TOD/Optional Demand consumers will be released soon.
to calculate the Kerala state electricity bill use the calculator provided here https://www.kseb.in/bill_calculator_v12/.
What is KSEB Quick Pay?
It is website based payment system for paying Kerala State Electricity Board bills.It is available for both Desktop and Mobile. With the help of 'kseb quick pay' you can pay without any registration or login in to quick pay kseb.
How to Pay Electricity bill through KSEB Mobile App
The first step ,to pay the electricity bill via mobile app is download the KSEB mobile app. The process of how to use the KSEB app is as follows.
Download the KSEB mobile app from Google Play Store for android or Apple Store for iphone.
Log in to your account by entering your user ID and password.
You will be able to view the latest bill and the amount payable.
Then use the 'Quick Pay' option to pay your bill. Enter your consumer number, email ID, and mobile number to complete the payment.
Choose the mode of payment you want to prefer.
Provide your details and follow the instructions. You will be able to pay your electricity bill. Save the receipt for future reference.
That's all.
KSEB Bill Payment Online Through PhonePe
Install PhonePe app from Play Store
Open the PhonePe App.
Locate 'Recharge and Pay Bills', and click on 'Electricity'.
Under 'All Billers' Select 'Kerala State Electricity Board Limited'
Enter the consumer number. The bill will be displayed on screen. Proceed the payment.
KSEB bill quick pay using Google Pay
Install Google Pay app from Google Play Store.
Open Google Pay App.
Tap on ' + New payment'.
Click on 'Bill Payment', and then click on 'Electricity'.
Choose 'Kerala Electricity (KSEB)' from the list of all electricity billers available.
In the next step link your electricity bill account by providing your consumer number and account name. Click on 'Link Account'.
You will be able to view the bill generated. Complete the payment and save the receipt.
KSEB bill payment using Paytm.
Install PayTm app from Google Play Store.
Open the Paytm App.
Under 'Recharge and Bill Payments', click on 'Electricity Bill'.
Select 'Kerala' from the list of states, and then select 'Kerala State Electricity Board (KSEB)'
Enter your consumer number and Nickname and click on 'Proceed'.
You will be able to view the bill generated. Complete the payment and save the receipt.
View or download latest KSEB Bill via KSEB bill View
For view or download kseb bill through KSEB bill View .
Visit https://www.kseb.in/billview/ and provide consumer no and registred mobile no . The click on ViewBill Button. This will display latest kseb bill in pdf format. You can download print the displayed kseb bill.
Note that,
This facility is now available for selected sections only.
Bills shown here are subject to revision. Revised bills can be obtained from your Electrical Section Office.
In case of dispute, the original bill served from the Electrical Section office shall prevail.
The conditions/notifications given in the original bill is applicable to this bill also.
Kerala State Electricity Board (KSEB) Customer Care
KSEB Corporate Headquarters Phone no & details
Kerala State Electricity Board Ltd., Vydyuthi Bhavanam, Pattom, Thiruvananthapuram, PIN - 695004, Kerala, INDIA.
Given below are some important numbers which you can get in touch depending upon your requirement and query you may want to get resolved:
| Name | Phone | Details |
| --- | --- | --- |
| Customer Care Centre (24 x7) | 1912, +91 471 2555544 | All enquiries and complaints of consumers round the clock,365 days |
| Chief Public Relations Officer | +91 471 2446480, +91 471 2514468 ,+91 9446008179 | Media related matters, Corporate Communication, News Releases etc |
| Chief Engineer (IT) & Customer Relation | +91 471 2514610, +91 9496011747 | Escalated customer grievances |
| Chief Engineer (HRM) | +91 471 2448948, +91 471 2514454, +91 9446008825, 9446008008 | Enquiries related to Careers, Training, Recruitment etc. |
| Chief Engineer (Distribution) South | 0471 2462574, 9446008011 | Escalated customer grievances on electricity supply in Thrivananthapuram, Kollam, Pathanamthitta, Kottayam districts |
| Chief Engineer (Distribution) Central | 0484-2306245, 9496008717, 9446008201 | Escalated customer grievances on electricity supply in Alappuzha,Idukki,Ernakulam,Thrissur districts |
| Chief Engineer (Distribution) North | 0495 2766962, 0495 2766741, 9496010689, 9446008204 | Escalated customer grievances on electricity supply Palakkad, Malappuram, Kozhikode districts |
| Chief Engineer(Distribution) North Malabar | 9496010000 | Escalated customer grievances on electricity supply Kasaragod, Kannur, Wayanad districts |
| Vigilance / APTS | + 91 - 471 - 2444554, + 91 - 471 - 2514564, + 91 - 471 - 2514374, + 91 - 471 - 2544594, + 91 - 471 - 2514591, +91-9496008876, 9446008006, 9446008490, 9446008491 | Information related to corruption of KSEBL employees or information related to theft of electricity |
| Reception, Vydyuthi Bhavanam, Thiruvananthapuram | 0471 2514424 / 0471 2514633 | Queries related to Corporate Office during office hours |
| Web Development Team | +91-495-2367088 | For feedback about the web site |
How can I find my KSEB Consumer Number?
The KSEB bill consumer number printed on your electricity bill which you receive form KSEB or you can find it from electricity meter board. Choose Quick Pay option from KSEB web site and fill your mobile number or consumer no to display KSEB Bills .
I have made payment for KSEB Bill twice is my amount lapsed?
No,There is nothing to be worried if you have made your bill twice through KSEB quick pay portal, and if the payment is received by KSEB it will be added to your account which will be applied to next month bill due, and thus extra amount paid will be received as advance amount paid for KSEB bill.
How can I check the status of my KSEB Bill through Online?
Once you provide your consumer number or mobile number to the kseb quick pay website status of the due amount along with recently done transitions are displayed on the screen.
How can I download paid KSEB bill?
To download your KSEB bill payment receipt online, you have to be a registered user on  https://wss.kseb.in/selfservices/. If you are a registered user, log in to the account, and you can view your payment history and download any receipt shown in the payment history section.