etapp - Easy water Connection from Kerala Water Authority
Etapp Easy Water Connection
As a part of digitization in Government sector Kerala Water Authority introduced a new online service called eTapp . Etapp is a online web service for getting easy new water connection without visiting office physically. By using etapp users can submit online application for new water connection. In future the web portal will give you option for submitting sewerage connection also. The new water connection procedure will complete in 6 stages. They are as follows.
Apply for new connection (Mobile No Validation ,Area and location Validation , Necessary document upload.).
Application Verification (Verifies application details, Location verification, Assign field officer )
Location Visit ( Proper document verification, Location verification, Estimate preparation)
Estimate Verification (Verifies estimate, Intimate applicant for payment)
Plumber Assign and Work Order (Payment verification, Plumber assign, Work Order Generates)
Connection Approval (Verifying work details,Uploading work completion details)
eTapp Quick Links
What are the documents required for water connection in Kerala?
Following documents are required for getting water connection in Kerala.
Building Ownership Certificate.
Adhar Card Copy.
Ration Card Copy.
How to submit application for water connection through Etapp ?
Application for new water connection shall be submitted through eTapp online web portal. Consumers have to create an account with their email-id on the eTapp web portal to submit applications, multiple applications can be submitted with this account. Mobile number is also necessary to submit applications online.
Before registering Kerala Water Authority eTapp for new water connection you must have the following documents in original and take the copies in jpeg or png format and save it in to your mobile or PC .
Building Ownership Certificate/ Possession Certificate / Occupancy Certificate .
Adhar Card Copy.
Ration Card Copy.
Register in Etapp Portal
Log on to eTapp web portal https://etapp.kwa.kerala.gov.in/register for creating an account. Consumer can create an account by providing Name, Email address and Mobile number. Consumers can submit multiple applications with this account.Here is the step by step tutorial about how to register in eTapp.
1.Go to https://etapp.kwa.kerala.gov.in/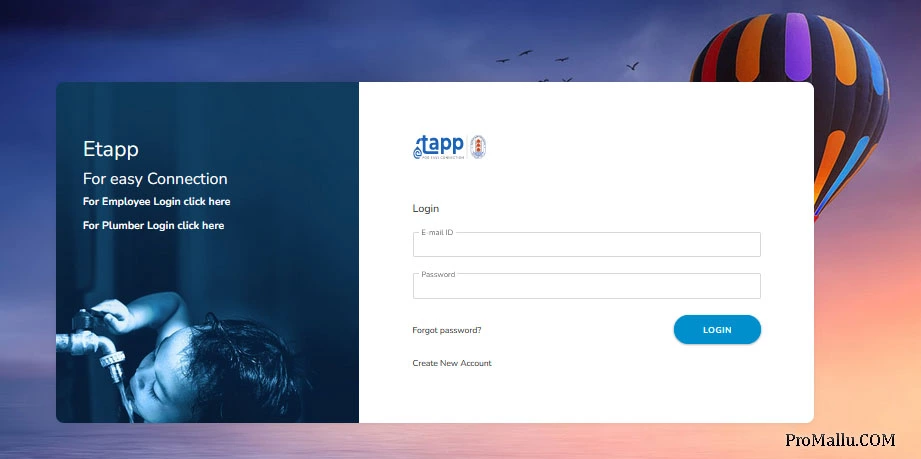 2. Click on 'Create New Account' link. or directly visit https://etapp.kwa.kerala.gov.in/register .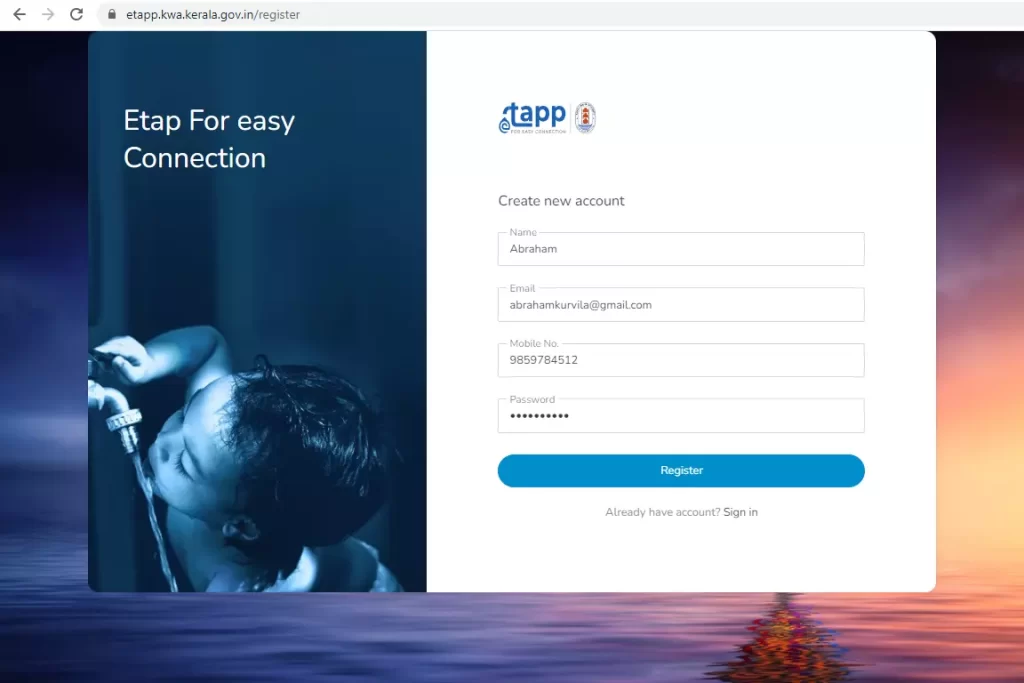 Provide your name,email id, mobile no and set a password in appropriate field.Then Click 'Register' button.
After successful registration you will get message 'Registration Success' in your screen.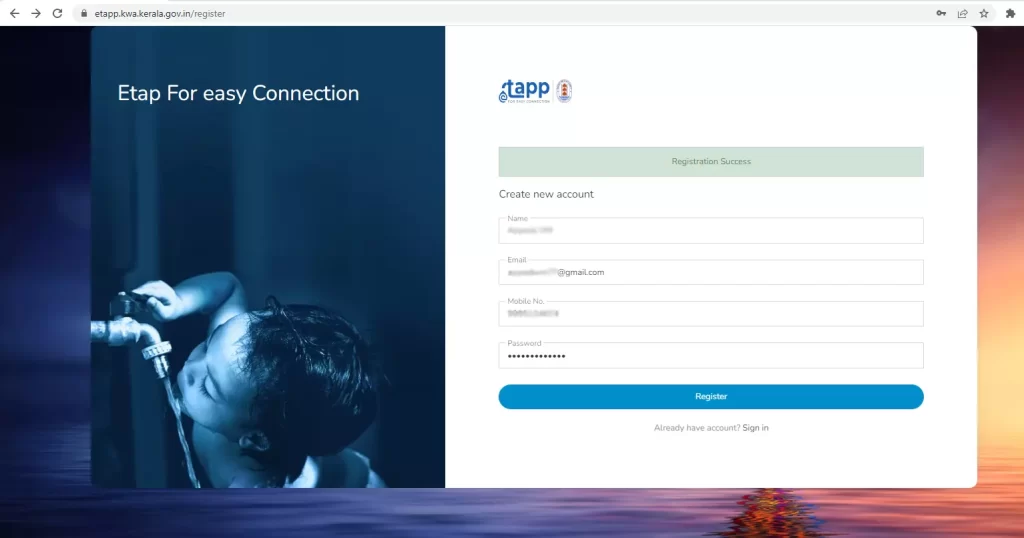 Submit Application in Etapp
Login to your account, provide applicants mobile number for authentication, select district, Local body, Location and Aadhaar number. Select your exact location from the map. Upload ID proof, Building ownership certificate and other documents if necessary. Submit your application.
1 . Login to your dashboard by providing email id and password that set in previous stage by using https://etapp.kwa.kerala.gov.in/ link.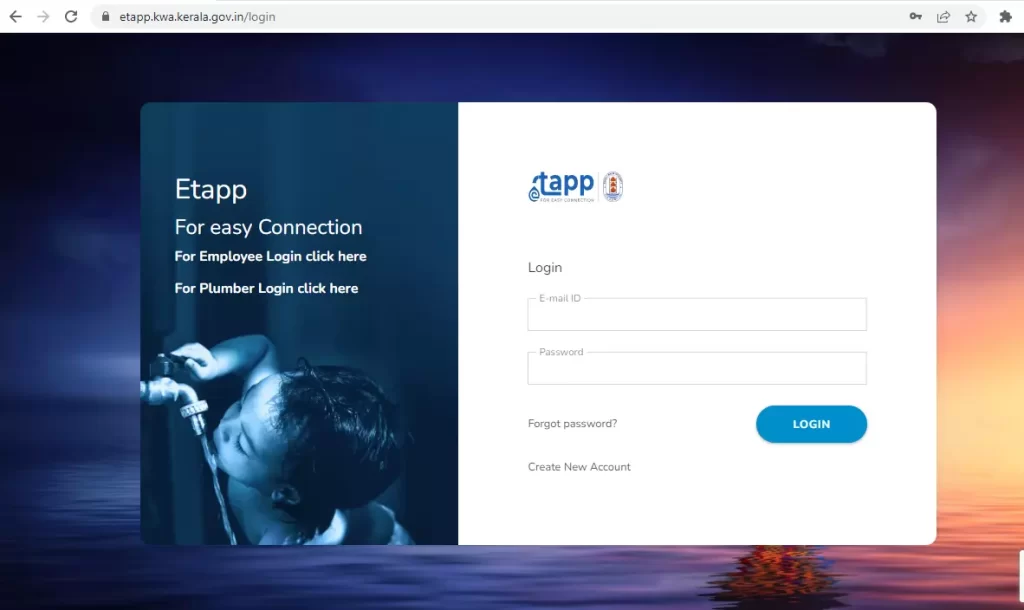 2 . After successful login you will see consumer dashboard. In Consumer dashboard you have 3 options. They are as follows.
Water Connection.
Sewerage Connection.
Consumer Services.
3. In this dashboard Click on 'Water' menu in left of the panel. Then Click 'Apply New' button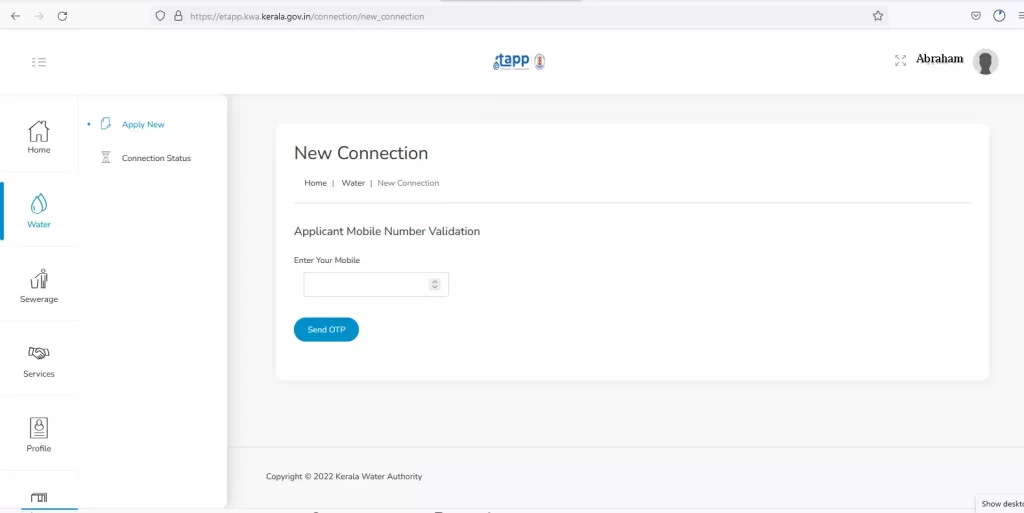 For submitting new water connection application you must provide a mobile no. For validation purpose click 'Send OTP' button.After that you will receive an OTP (One Time Password) in your mobile no.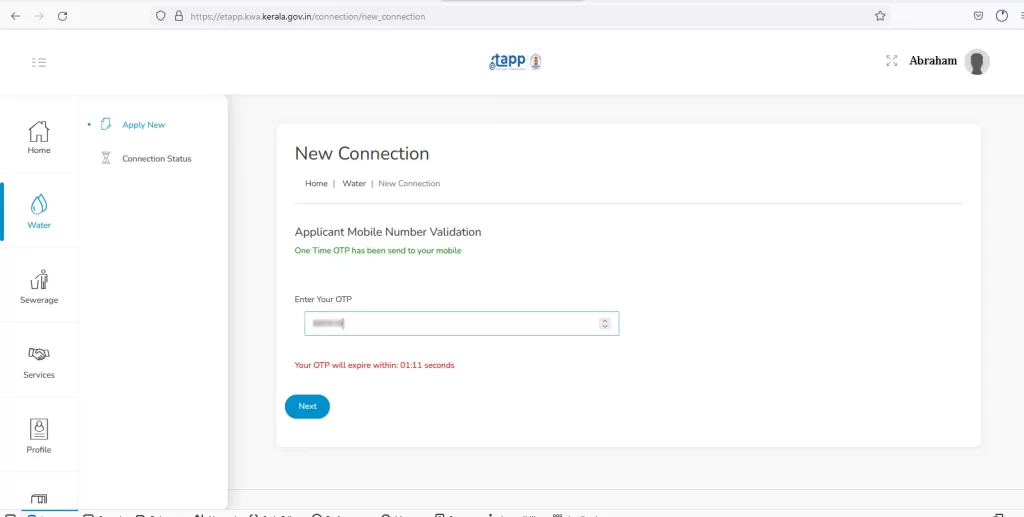 4. Provide the OTP and press on 'Next' button.
5. Now you are redirected to form for fill location details. Provide your location details in appropriate fields. Select District from drop down list. Then select local body type (Municipality, Corporation , Panchayath ). Then Select Local Body name from the drop down list. After that provide area from the list provided. Then provide your adhar no . Then type Landmark if you have like mosque/temple etc.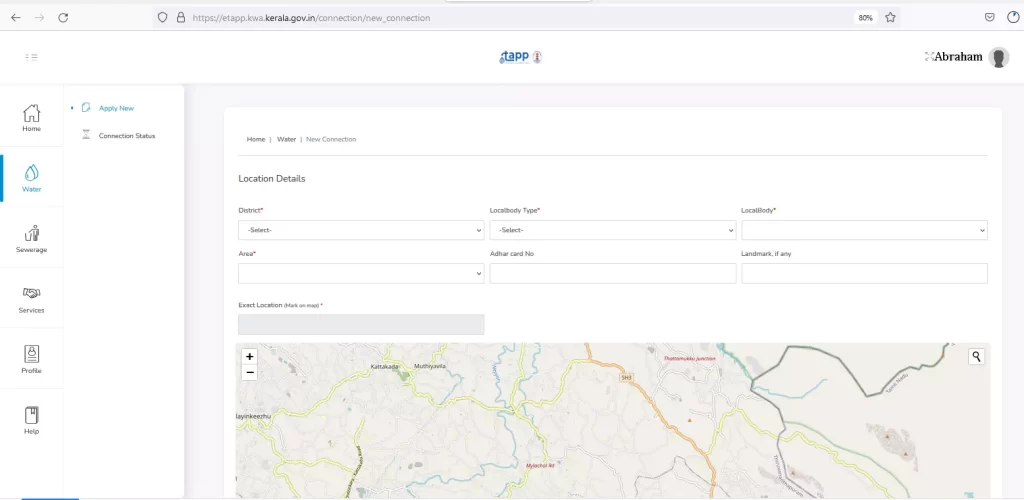 Then click on exact location for water connection from the map provided.Then click on 'Next' button.
6. Provide address and other details like type of connection, in this step. First select which type of water connection you required. From the drop down select Domestic/Non- Domestic/Industrial.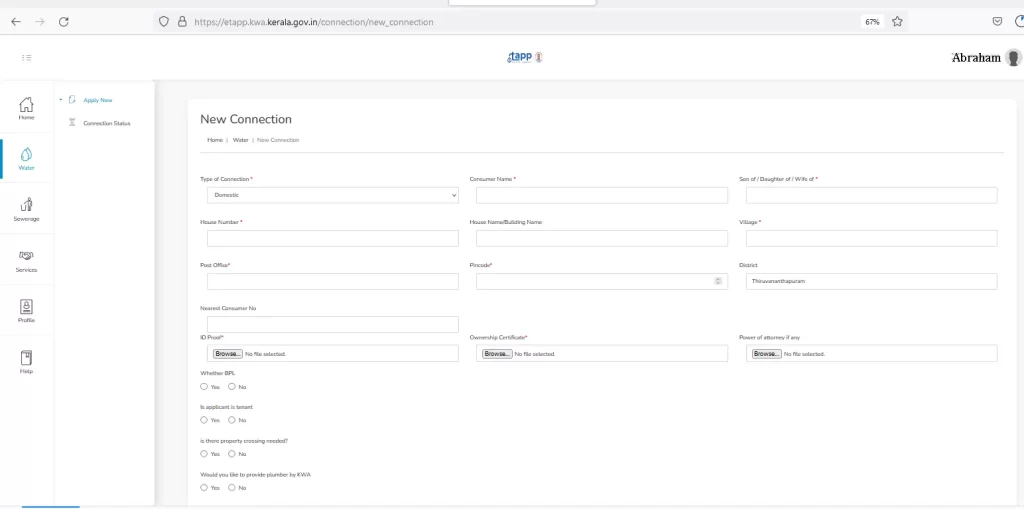 Provide consumer Name, then provide Son of/ Daughter of / Wife of ,Then provide House No, House Name or Building Name, Village Name, Post office, Pincode and District.
If you know your neighbor consumer no in Nearest Consumer no field.
After that browse ID poof (Adhar Copy saved in jpg/png format) , Ownership /Possession/Occupancy Certificate in 'Owner Ship' certificate field. If you have power of attorney then upload it.
Note that * marked fields are mandatory.
After that answer these questions . if answer is then you will ask to upload the required documents copy.
Wheather BPL
Is applicant is tenant?
Is there any property crossing needed?
Would you like to provide plumber by KWA? (If you provide Yes then system will select a plumber by itself. If you provide no then you will get drop down list of plumbers . From that list you can select the plumber as per your wish)
7. Agreement

To execute an agreement with Kerala Water Authority is easy and no need to visit office.Just read the agreement carefully and click on 'ACCEPT TERMS AND CONDITIONS'
Then Click on Submit button.
8. Now you are successfully submitted an application for new water connection !.


Connection Status in etapp
We will intimate the connection status of every application through submitted mobile number of the applicant. Consumer can also login to eTapp for easy water connection in Kerala https://etapp.kwa.kerala.gov.in/login/ to check the connection status.